The Wisconsin Garden Railway Society - September 27, 2015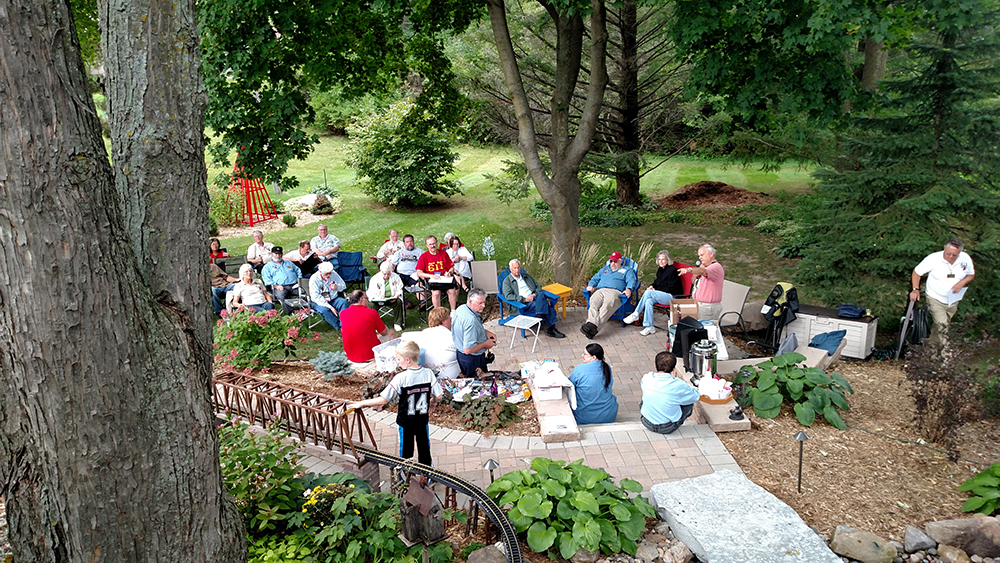 The WGRS monthly meeting was held at the MW&W RR on Sunday, September 27, 2015. About 30 attended and inspected the railroad.
Four trains were operated during the meeting:
1. WGRS Special: Engine 360 (outside frame consolidation), Business Car B-7, Coach 278, Parlor Car Chama, Parlor Car Camp Bird (with WGRS drumhead)
2. Business Car Special: Engine 365 (C-19 in Bumblebee livery), Business Cars Sophie, Owen, Alex, Katherine, and B-4 (with WGRS drumhead)
3. The San Juan: Engine 450 (K-27), RPO 54, Baggage Cars 126 and 129, Coach 326, Parlor Car Durango (with San Juan drumhead)
4, Stock Freight: Engine 40 (RGS C-19) with six stock cars and RGS 404 long caboose
Thanks to Dick Davis, Catherine Richards, and Michael Richards for their help getting lunch prepared and served and to Owen Richards for his able assistance planning operations, preparing the railroad for the event, and operating trains during the meeting.